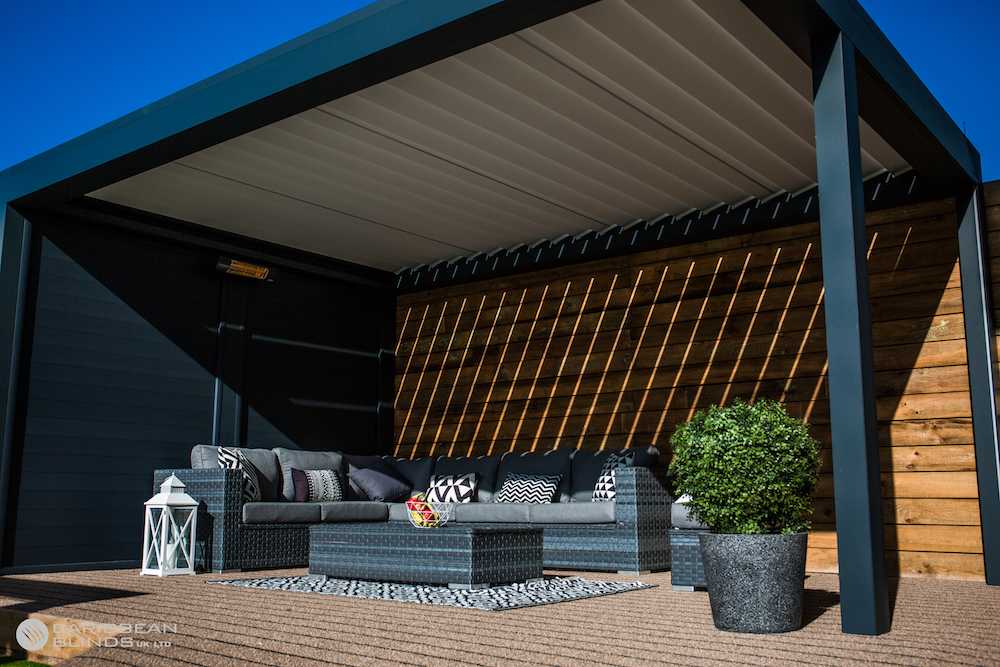 Garden Pods Coming Soon!
Bury Blinds, in Bury St Edmunds, are excited to announce the launch of our 'Outdoor Living Pods' range.
Louvered roofs allow you to make the most of your outdoor space, whatever the weather. The award-winning Outdoor Living Pod™ is a pergola patio canopy with an opening and closing louvered roof. It provides flexible sun shading along with rain and even snow protection to your patio, allowing you use of your terrace – all year round.
Designed as either a standalone or lean-to pergola shade canopy unit, the Outdoor Living Pod™ is a modular system that can cover terraces of all sizes and can be expanded. Galvanised steel base plates integrated within the vertical uprights (poles) provide an invisible fixing down to the terrace floor, whilst reinforced corners to the legs ensure the structure is both solid and robust.
Finished in a stunning textured, corrosion-resistant coating and with small details such as concealed screws, the Outdoor Living Pod™ brings a touch of class to any location. It meets and exceeds even the most discerning requirements and its super-strong aluminium and stainless-steel construction ensures it will withstand even the worst of the British weather. Tested to the severest of quality standards, the louvered roof can withstand wind speeds up to Beaufort 12.
For more information please call to book an appointment or select the link below for a free quote;
CONTACT US